News and Special Features
Important news and and information about the health and well being of our nation's Service Men and Women, with a focus on Mental Health, Combat Stress, PTSD, Injured Military Personnel and Veterans Issues.
Latest Reports, Information and Findings:

General Assembly of North Carolina: A House Resolution expressing support for Patriot Outreach and encouraging all to consider volunteering their services
Study: Antipsychotic drug prescribed for PTSD is
Ineffective
By Seth Robbins - Stars and Stripes
Full Story

A powerful antipsychotic drug given to tens of thousands of veterans suffering from post-traumatic stress disorder is no more effective than a placebo against PTSD, according to a study released Wednesday.
The study, published in the Journal of the American Medical Association, could diminish the widespread use of second-generation antipsychotics to treat PTSD, said Dr. John H. Krystal, who led the study as director of the clinical neuroscience division of the Veterans Affairs' National Center for PTSD.
When antidepressants fail to help servicemembers with PTSD, the drugs are often supplemented with second-generation antipsychotics prescribed "off label" — meaning their use in treating PTSD patients has not been approved by the U.S. Food and Drug Administration.

Court Blasts VA Mental Health Care System
By Paul Elias - The Associated Press
Posted : Tuesday May 10, 2011 19:16:25 EDT
Full Story

SAN FRANCISCO — Noting that an average of 18 veterans a day commit suicide, a federal appeals court on Tuesday ordered the Department of Veterans Affairs to dramatically overhaul its mental health care system.
In the strongly worded ruling, the 9th U.S. Circuit Court of Appeals said it takes the department an average of four years to fully provide the mental health benefits owed veterans.
The court also said it often takes weeks for a suicidal vet to get a first appointment.
The "unchecked incompetence" in handling the flood of post-traumatic stress disorder and other mental health claims is unconstitutional, the court said.
Health Promotion, Risk Reduction & Suicide Prevention Report
From: U.S. Army Washington, D.C. (July 29, 2010)
Download PDF Website/Info

They are not just statistics; they are our Soldiers who may be stressed, feel isolated, become dependent on drugs or just need more time to recover. The good news is our efforts to emphasize the importance of behavioral health are working.

This hard-hitting report is based on what we know and what you have helped us identify. It is designed to inform and educate, spark discussion, hone compliance on existing policy and provide an azimuth for the way ahead.

PDF Format

Task Force On Mental Health Report


Department of Defense
The Task Force acknowledges the good-faith efforts currently being implemented by the Department of Defense and the Military Services. In the history of warfare, no other nation or its leadership has invested such an intensive or sophisticated effort across all echelons to support the psychological health of its military service members and families as the Department of Defense has invested during the Global War on Terrorism.

Debunking the Myth of the 'Addicted Army' page 22 of the vfwmagazine
By Jeremy Kuzmarov
For three decades, the news media and Hollywood conditioned the American public to believe that "drug-crazed" Vietnam vets "lost" the war and posed a threat to society upon their return. Nothing could be further from the truth, as this author points out.

War Trauma Resources
By Raymond M. Scurfield, DSW, LCSW
Advice for locating support and counseling resources for anyone struggling with deployment and post-deployment Issues. PDF


"SERVE, SUPPORT, SIMPLIFY" The President's Commission on Care for America's Returning Wounded Warriors: PDF Website

Executive Order #03062007: For establishing a Commission on Care for America's Returning Wounded Warriors and a Task Force on Returning Global War on Terror Heroes PDF


Past Reports by Commissions, Task Forces, and Committees:
2007 Institute of Medicine. PTSD Compensation and Military Service. Washington, DC: National Academies Press.
http://books.nap.edu/openbook.php?record_id=11870&page=R1

Department of Defense Task Force on Mental Health. An Achievable Vision: Report of the Department of Defense Task Force on Mental Health.
PDF

Institute of Medicine: A 21st Century System for Evaluating Veterans for Disability Benefits. Washington, DC: National Academies Press. Available at
http://books.nap.edu/catalog.php?record_id=11885

President's Task Force Report: Returning Global War on Terror Heroes. Available at: http://www1.va.gov/taskforce/

Independent Review Group: Rehabilitative Care and Administrative Processes at Walter Reed Army Medical Center and National Naval Medical Center.
(aka, the "West and Marsh Commission")
http://www.fas.org/sgp/crs/misc/RL34140.pdf


Iraq & War-Zone Psychiatric Casualties
[Presentation Version]
Download Word Document.

Media Reports and Articles:

Beyond Walter Reed: The Full Tragedy of Lessons Unlearned From Vietnam to Iraq PDF
University of Southern Mississippi
Does the widespread reaction to the recent expose at Walter Reed and the neglect of some of our nation's physically wounded Iraq veterans indicate that our nation has had a wake-up call to what the full impact of war entails—and what is required to address it? As a Vietnam Veteran with a 25-year leadership career with the VA, please forgive my skepticism. The underlying institutional problems go far beyond any benefits from sacking high-ranking officials; cosmetic cover-up and pest control treatment at one military facility; and renewed time-limited Congressional oversight that eventually dissipates.

Vet Looking for Helicopter to Help Iraq Soldiers Recover
Veterans Today
The 58-year-old says the adrenaline rush from skydiving was a sort of
catharsis for post-traumatic stress disorder, the aftermath of war for
thousands of Veterans then and now. The Department of Veterans Affairs
reports PTSD affects nearly 18 percent of Iraq war Veterans.
GO

Author/vet Counsels Soldiers on PTSD
Army Times
DALLAS — When America's wounded come back from war, carried off airplanes and shuttled to military hospitals, no one understands better than Allen Clark what they will face in the coming months and years.

Troops' Mental Health Struggles
Washington Post
Army Spec. Jeans Cruz helped capture Saddam Hussein. When he came home to the Bronx, important people called him a war hero and promised to help him start a new life.

Trauma and the Mind-Body Connection
Psychiatric Times
Phebe Tucker, MD and Elizabeth A. Foote, MD
(PTSD) occurs in approximately 8% of adults during their lifetime, with different trauma types associated with varying rates of illness.

Military Psychiatric-Care Overhaul Urged
Washington Post
Top officials in the Bush administration and on Capitol Hill said yesterday that the federal government must move quickly to revamp the nation's system for identifying and caring for military personnel with the invisible wounds of mental illness.

Vet Group Blasts PTSD care
Honolulu Advertiser
CAMP PENDLETON, Calif. — Marines returning from war with post-traumatic stress disorder are reluctant to seek help for their condition and when they do, they are sometimes stigmatized by their leaders, a pair of investigators from a national Veterans advocacy group found.



Global Incident Map:
A global display of terrorism and suspicious activity around the world.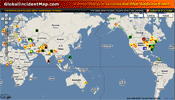 Click Here



DOD - Contractors in Afghanistan and Iraq:
Background and Analysis - PDF
Congressional Research Service
Moshe Schwartz, Joyprada Swain
DOD had more contractor personnel in Afghanistan and Iraq (155,000) than uniformed personnel (145,000). Contractors made up 52% of DOD's workforce in Afghanistan and Iraq. Since December 2009, the number of DOD contractors in Afghanistan has exceeded the number in Iraq.

Civilian Contractors under Military Law- PDF
U.S. Army Strategic Studies Institute
Marc Lintermann
UCMJ's jurisdiction now clearly extends to military contractors in Iraq and Afghanistan.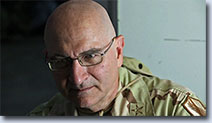 My Testimonial
COL Tony Monaco
Featured Articles
The Real Cost of the War
A special report: Why is the U.S. ignoring battle-scarred soldiers?

Warning Signs, Triggers and Coping Strategies
by COL Kathy Platoni
(Psy.D.), 307th Medical Group
Support

LifeLine Resources
Best Online Support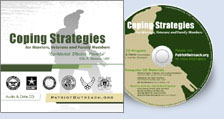 Coping Strategies
TM

A special Multi-Media CD - an offline version of the PatriotOutreach website

Sounding Off!
Listen in! and, discover more insights, news and feedback.
Get The Word Out!

Patriot Outreach is a (501 (c)(3) tax-exempt) non-governmental, non-profit foundation with limited resources. If you have benefited from this service or share in our mission, please help us reach others.